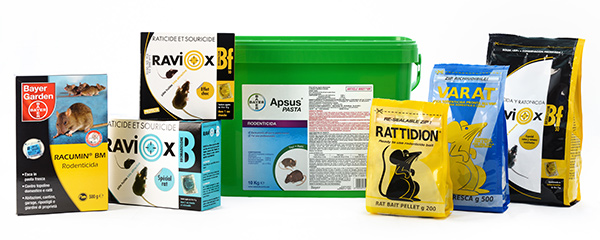 The rodenticide baits produced by Industrialchimica meeting the requirements of the regulations in force both in the European Union (Biocide Directive) and in non-European countries, couple the effectiveness of the active ingredients known as "second generation anti-coagulants" with the attractiveness of edible substances normally used in human nutrition (cereal, animal or vegetable fat, flavourings, sugar), getting the rat or mouse to eat the baits unsuspectingly.

Industrialchimica owns registrations under its own brand for formulations of fresh pasta, extruded waxed blocks and pellets that can be granted for distribution by underwriting licensing agreements, both in Italy and abroad, but can also support customers to get their own registrations for products having a specific trademark.

The rodenticide baits produced by Industrialchimica are available in different packagings: from the 200 g plastic sachet (with or without re-sealable zip), up to the 10 kg carton box / plastic pail.